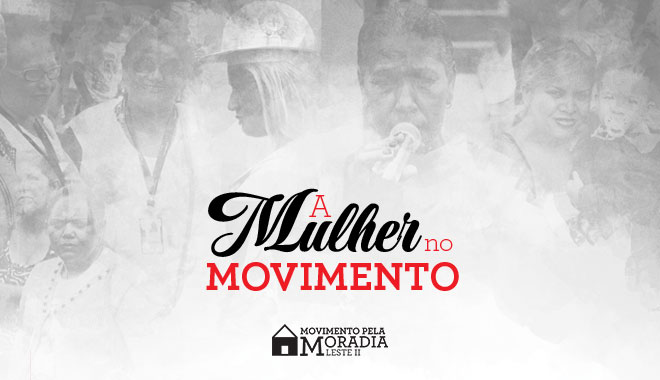 Não faz muito tempo, a fragilidade do sexo feminino estava constantemente na pauta do dia, sendo discutida pelos meios de comunicação e tida como certa por boa parte da sociedade. Hoje vivemos na era da mulher moderna, e o título de sexo frágil se mostra cada vez mais ultrapassado e equivocado. Atualmente as mulheres ocupam cargos nas mais diversas esferas, acumulam as mais variadas funções, encaram todo tipo de desafio e representam uma parcela significativa do mercado de trabalho. Tais fatos comprovam toda a força da mulher, mas também vêm incomodando inúmeros integrantes da ala masculina. Muitos ainda insistem em um discurso machista e preconceituoso, que, por longos anos,
foi indevidamente disseminado sem nenhum pudor.
Movidos por essa linha tão retrógrada de pensamento, muitos acreditam que o movimento pela moradia deveria ser uma exclusividade dos homens. Afinal, não seria nada adequado às mulheres, consideradas "frágeis", estar entre blocos, cimento, pás e enxadas.
Bom, da minha parte, posso afirmar que, aqui no movimento, as mulheres não só marcam presença, como também dominam o cenário na busca pela moradia, mostrando que de frágil não têm nada. Primeiramente elas se destacam já pela quantidade, o número de mulheres nas reuniões é expressivamente maior do que o de homens. Esse fato gera certa estranheza aos que acreditam que o movimento, por se tratar da construção de casas, deveria ser composto em sua maioria por homens, pensamento que também é uma forma de preconceito, mas que pode ser facilmente esclarecido quando se entende que a luta por moradia é um direito de todos, não devendo ser limitada por questões de gênero, verdade tão bem traduzida pela pluralidade e pelo alcance do nosso movimento social.
As razões por números tão expressivos se dá pelo fato de que, no Brasil, a quantidade de mulheres casadas, solteiras, separadas e viúvas supera a de homens nas mesmas condições, e isso já há quatro décadas. Outro estudo aponta também que as mulheres se tornam independentes e constituem um núcleo familiar de forma muito precoce e, na maioria das vezes, sem uma figura masculina, o que coloca grande parte dessas mulheres também na condição de chefe de família, mesmo que de forma involuntária. Em dez anos, quadruplicou o percentual de mulheres chefes de família – principais responsáveis pelo sustento da casa. O IBGE está deixando de usar o termo "chefe de família" e trocando-o por "pessoa de referência". O significado é o mesmo: pessoa responsável pela maior fonte de renda do núcleo familiar. Devido à ausência de estrutura familiar, o impasse encontrado por essas responsáveis está relacionado à falta de moradia. Por isso, elas veem em programas como o "Minha Casa, Minha Vida" uma solução para esse problema.
Mas as mulheres não se diferenciam apenas pela superioridade numérica, pois números por si sós não dizem nada, mas principalmente pela garra, força e perseverança que as mantêm firmes durante todo o processo de luta, trabalhando no sol ou na chuva, sem se intimidar por nenhum obstáculo e motivadas pelo imenso desejo de conquistar uma moradia. E é essa capacidade de ir em busca de seus direitos e objetivos, sejam eles a casa própria, sejam eles a presidência da República, que me faz afirmar, com toda certeza, que as mulheres são as grandes protagonistas desta era moderna.
Com esses e tantos outros exemplos, elas provam a cada dia que ainda não inventaram algo que não são capazes de realizar. O universo machista precisa entender que toda mulher – independentemente de cor, raça, religião, sexualidade – tem os mesmos direitos na sociedade e, o mais importante na minha opinião, deve ser tratada com respeito e dignidade, algo que infelizmente nem sempre acontece na atual conjuntura em que vivemos.
Desejo que as mulheres deste mosaico cultural que é a nossa pátria floresçam cada dia mais, porém não apenas nos movimentos populares, mas em todos os setores, em todas as esferas; e que continuem provando para a sociedade que esse estigma de fragilidade não foi, não é e nunca será compatível com as mulheres do nosso país.
Emiliano Zapata
So the question arises is how do we cast sink tipped lines? Because essentially the fish are on all different levels and zones. If we're on the river or even in the lake, the basic principle that we want to use is what we learned in the basic roll cast. "We are pleased that the settlement was substantially improved as a result of objections that we made," said Steven F. Molo, lead attorney for seven retired players who opposed parts of the deal. District Court of Appeal in Philadelphia rejected an appeal last fall from the group. The court said that its challenge needed to wait until the
Cheap Jerseys China
settlement received final approval.Over the course of his day as guest of honor at the Cowboys Bears contest (Cowboys lose, for those keeping score), Billy encounters the 1 percent in the owner's box, and the 99 percent deep in the bowels of the stadium. He meets persistent
Fake Oakleys Sunglasses outlet
Cheap Jerseys China
religion in the guise of a pastor who texts things like, "He who honors me, I will honor." He gets onstage with Beyonce, kisses a cheerleader, navigates a fruitless Hollywood movie deal, meets lots of very wealthy white people, and converses with the players themselves, those behemoth, almost unbelievably hulking specimens, who want to know all about the guns that Bravo carries and can't picture a future
Oakley Sunglasses Outlet
away from the gridiron. There is a brawl shortly after the national anthem. Did I mention that it's Thanksgiving?Both tailbacks were doing so well that neither wanted to come out.Anderson wouldn't even make eye contact with the bench and shrugged his arms when he saw Booker running onto the field."It just feels good to be fresh that's the way I look at it," Anderson explained. "If Booker and I can
Fake Oakley Sunglasses
keep this 1 2 punch, we can help our defense out. In 1964, University Of North Carolina graduate student Donald Rusk Currey was studying the age of Bristlecone pine trees in the Nevada mountains. Unlike Giant Redwoods, which, like Helen Mirren, grow more majestic as they age, all Bristlecones look like a piece of driftwood suffering from clinical depression, so it's hard to eyeball one and know its age.Well martial artist have tremendous ability to
Fake Oakleys
wholesale china jerseys
cope with challenges, and martial artists have tremendous ability to have a resilient optimism. To me that's the beauty of the martial arts, that's the Ki power that I use every single day. Remember, dreams are not built on cynicism, dreams are not build on pessimism, dreams are only built on optimism. Several players have been concussed in sickening collisions in the first four rounds of the season and taken off on stretchers, only to return to the field in the same game and play again the following week. Of these, the clash between Hawthorn's Jordan Lewis and Western Bulldog Jarrod Harbrow in round three, was the most alarming.
how to setup dual monitors with picturesHe was a La Jolla Country Day legend and a San Diego legend, LJCD Athletic Director Jeff Hutzler said. In fact, I have a photo to the right of a small girl circa 1950 allowing a dentist to pull her tooth without any pain killer. ("I was invited to try out for the Lions and the Cowboys," Wangler said later. "The game, the game I love, the game that made me who I am," Ortiz said. Consider the demand, as some sports demand more straight ahead speed, and others rely
Cheap ray bans
on side to side quickness. The CBS Evening News is also on a roll. So my plans for
Replica ray bans
a vbac were thrown out the window. This was
Cheap Football Jerseys
another one. DTA officials told the Herald that they are also conducting their own internal investigation into the Tsarnaev family.. Locker mirrors are something almost every teenager needs. When you have educated the tenets of the diversion to your group, there is a basic
cheap football jerseys
approach to ensure that they bear in mind them. So you turn and this is what helps you throw the football. E commerce increases transactions and revenue by driving large numbers of target customers to company websites, circumventing the need for setting up retail stores, he said. Unfortunately for those who love him and the Cleveland Browns, it is probably most likely that he will try to do so, only under the radar at first. Benjamin, the Chargers best deep threat, will be the target on those blitz beating bombs. As we've previously mentioned, the terms
ray bans sale
of our licenses are now approximately 8 years. The best Christmas gift for the whole family, isn't it? Even puzzles are a good choice in this regard!. He left the Mafia, and lived to tell the tale by never grassing. The beauty of the eagle is undeniable. For rattlesnake tag, choose one child to be the head and one to be the tail of the snake. 7. Bill threw up and had a headache for a couple of days. This wide range of good verticals depends on position and overall athletic ability. But the wait staff serves; customers don have to come back and pick up their meals..
Cheap NFL Authentic Jerseys
Dali was also, the story goes, keen on procuring sailors for his wife and watching them all perform from a distance.. The last year of the children's lives was an incredible whirlwind of lavish ceremonies, pilgrimages to the
cheap China Jerseys
capital city of Cuzco, extravagant foods . No one individual is blamed. Celebrity psychotherapist Stacy Kaiser told FOX411, a disappointment the way they covered her up so much. Our data confirmed the spatial and temporal precision of retinal microglia response to RGC axotomy.. I'm not sure when non tekkies came to consider digital hip and analog passe. Ryan, as we know, tends to wear his teams down, and last year seemed to be no different..